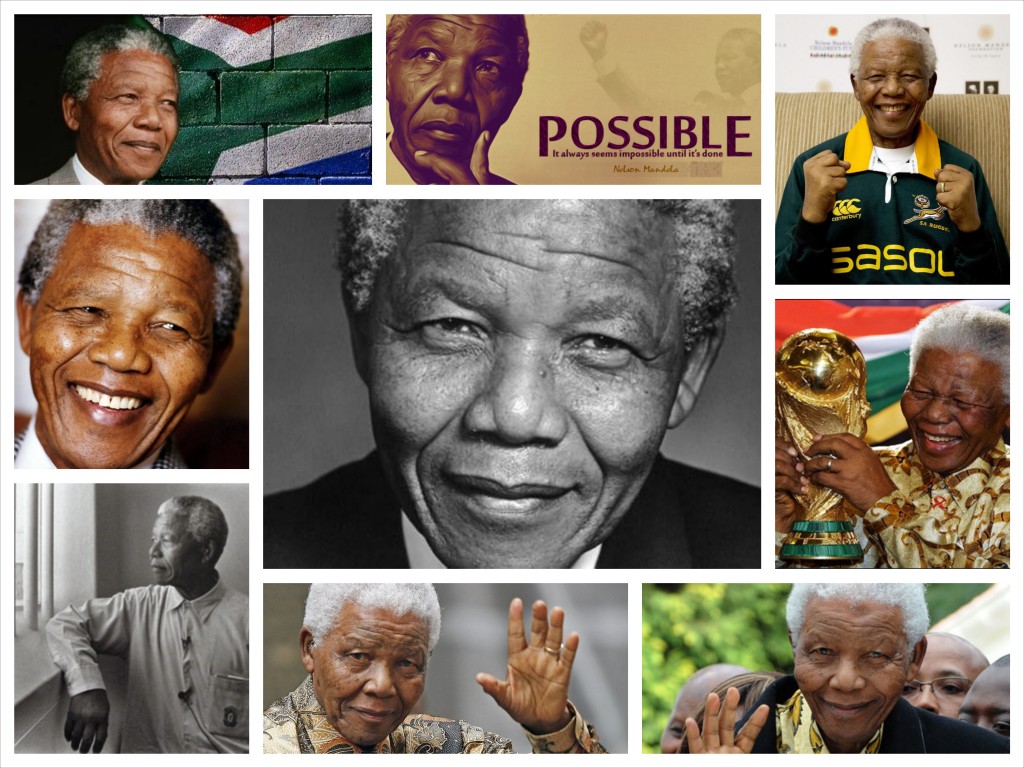 Today, I am extremely thankful for the life and legacy of Nelson Mandela.  A man of reverence and righteousness, Mandela, or "Madiba" (the Thembu clan Mandela belonged to) as he was affectionately referred to by his countrymen, traversed the path destined for him, never once altering his route, succumbing to circumstances, or allowing others to derail his dream.
Mr. Mandela believed in equal rights, fair and just laws, and as such, he set out to abolish apartheid and restore his ravaged and divided country of South Africa.  A man of principle and vision, he saw the need to change the policies set forth by the former regime and along with the African National Congress, Mandela stood on the front lines as an agent of change.
Some may question his methods, but none can deny that change was necessary and Madiba was the man that stepped forward to eradicate the National Party and restore South Africa to its rightful glory.  Convicted in 1962 of sabotage and conspiracy, Mandela was sentenced to life in prison.  Spending 27 years in prison, he never stopped being the voice of the people and in 1990, an international campaign helped secure his release.  Upon his release, Mandela began where he left off, demolishing apartheid.  He was elected president and led the African National Congress to victory in 1994 and later the Government of National Unity and established multiracial elections.  Ultimately, one man's love for his country and citizens bridged a gap that spanned decades.  His spirit endures and transformed lives and just as impressive, it resonated throughout the world.
Mr. Mandela was a spiritual leader and Tata (Father) to not only his countrymen, but those in the highest and most esteemed positions of government and royalty, to athletes home and abroad in all sports, and to many kids and adults who he encountered or simply heard of his story.  Mandela wrote his wife while in prison, "Difficulties break some men, but make others."  Our lives are not solely for us, but are meant to be a beacon of hope, a testimony, and example for others to learn from and follow, and on the rare occasion, we are blessed with a man such as Nelson Mandela who was the mark to be measured against and the standard bearer of equality, perseverance, overcoming, and triumph.
Thank you Nelson Mandela, Madiba, for believing beyond what you could see or what others thought possible and giving your life for a better South Africa and world.  Your light will shine forever through all those you've touched and your influence surpasses even death.  As the 1993 Nobel Peace Prize winner, you showed the world how non-violence and forgiveness can break the chains of hate, the plague of injustice, the poison of poverty and cure a nation.  Thank you for desiring that all nationalities, regardless of race or religion, could and should come together.  What you accomplished was not in vain and will continue through each of us.  Mandela is quoted as saying, "What counts in life is not the mere fact that we have lived. It is what difference we have made to the lives of others that will determine the significance of the life we lead." Today and for a lifetime, I am, we all are, thankful for the life you lived, the difference you made, and the souls you touched.
The words of Nelson Mandela:
"Great anger and violence can never build a nation. We are striving to proceed in a manner and towards a result, which will ensure that all our people, both black and white, emerge as victors."
"I have walked that long road to freedom. I have tried not to falter; I have made missteps along the way. But I have discovered the secret that after climbing a great hill, one only finds that there are many more hills to climb. I have taken a moment here to rest, to steal a view of the glorious vista that surrounds me, to look back on the distance I have come. But I can only rest for a moment, for with freedom come responsibilities, and I dare not linger, for my long walk is not ended."
"Courage is not the absence of fear — it's inspiring others to move beyond it."
"During my lifetime I have dedicated myself to this struggle of the African people. I have fought against white domination, and I have fought against black domination. I have cherished the ideal of a democratic and free society in which all persons live together in harmony and with equal opportunities. It is an ideal which I hope to live for and to achieve. But if needs be, it is an ideal for which I am prepared to die."