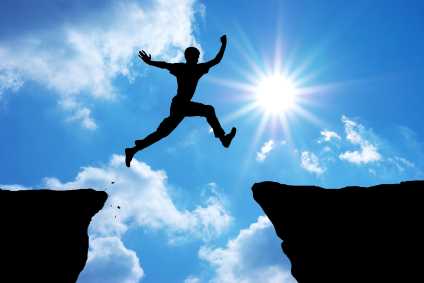 Today I had one of the most interesting and inspirational conversations with an old friend.  As we were catching up and he was filling me in on his life over the past years, I couldn't help but smile as I could hear how far he has come and more importantly, how much he has overcome.  To say I am excited for the path that he is on would be an understatement.
What stood out the most and resonated the loudest was we he began to explain his "leap of faith."  We've heard people use this phrase many times, but actually witnessing its manifestation is monumental and can leave one awestruck.  It's not about doubting a person, not believing in their talents, or thinking it is impossible, but our inability at times to see beyond the here and now, past the obstacles.  Martin Luther King, Jr. once said. "Take the first step in faith.  You don't have to see the whole staircase, just take the first step."  When you are climbing the stairs or taking the escalator, do you actually look at how many step are there or do you trust that it will be there one by one as you move along.  No different in life.
"Everything you want is on the other side of fear," is a very powerful quote by Jack Canfield.  How often how you let fear, doubt, insecurity, the unknown stop you from discovering your greatness.  Just like the staircase, if only you took one step, the other step would manifest one after another helping you to continue to climb and reach your dreams.  Sometimes, you literally have to walk on expectancy, believing that what you desire is not only possible, but also attainable.  Faith will provide and fill in the gaps where provisions are lacking.
Think about a puzzle.  Like the picture on the box, you have your vision in mind, you know what your dream looks like.  As you began to place the puzzle pieces together, the picture starts to develop.  Such as your leap of faith.  After you take that first step, trusting and believing the picture will come together, the pieces will begin to formulate on their own, lining up perfectly.  People will be drawn to you offering assistance you never thought possible and providing exactly what you need even though you had no idea you need them.  Funds will become available, allowing you to not inly sustain, but grow and prosper.  Your confidence will expand and the walk up the staircase will become exciting and exhilarating.
What my friend showed my yet again is that when we believe and trust, when we walk on faith, we strive for our hopes and dreams, the possibilities are endless!  I can't think him enough for inspiring me to continue to pursue my dreams and I challenge each of you to do the same.
"We must be willing to let go if the life we planned so as to have the life that is waiting for us." ~ Joseph Campbell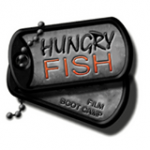 And for those that are looking for a production company that is biblically based, spiritually grounded, and top notch, look no further than Hungry Fish Media and my friend, Jay Hix Jones.  A phenomenal person with a world-class vision and company.  Check them out at hungryfishmedia.org and follow them at facebook.com/hungryfishcamp and @hungryfishcamp.