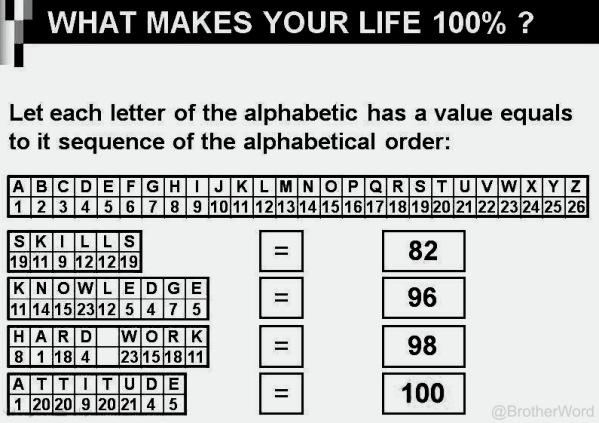 The right attitude will determine EVERYTHING!  Attitude is more than perception.  It is a belief in the impossible, it is a sense of calm in the storm, it is a confidence when all seems lost.  Your attitude will decide your elevation or your demise.
Attitude is also a learned trait that is built over time and through experiences.  Someone with a beautiful, positive, strong attitude is someone who has suffered through and survived some of life's most destructive and devastating ordeals.  The power in one's attitude stems from the lessons learned and the application of those lessons.  It's one thing to have a good attitude in good times, but how you react when the world is crumbling around you is the truest measure.  That is what separates the successful from the mundane that find themselves stuck, always in a rut, never able to overcome or get out of their own way.
What makes attitude so precious, so vital, is that the sooner you master your attitude, the sooner life will open up and dreams will begin to formulate before your eyes.  Master the circumstances and stop allowing them to master you.  What happens to you and around you may be out of your control, but your reaction, that is completely up to you and under your control.  That is the very definition of attitude – an organismic state of readiness, mental and emotional preparedness or state of mind, to respond in a characteristic way to a stimulus, whether it be a person or thing, tendency or orientation.  Nothing is guaranteed, but one thing is for sure; you are the master of your soul and the captain of your ship and the one thing that determines the course of your life is your attitude!
Think it is propaganda and hype?  Listen to the young man in the video.  A high school student athlete who is well on his way to greatness and has already captivated the attention and spirit of people twice his age.  Whatever this young man has experienced in life, it has matured him beyond his years and given him a blueprint to success.
"Nothing can stop the man with the right mental attitude from achieving his goal; nothing on earth can help the man with the wrong mental attitude." ~ Thomas Jefferson
"Attitude is a little thing that makes a big difference." ~ Winston Churchill
"Your attitude, not your aptitude, will determine your altitude." ~ Zig Ziglar