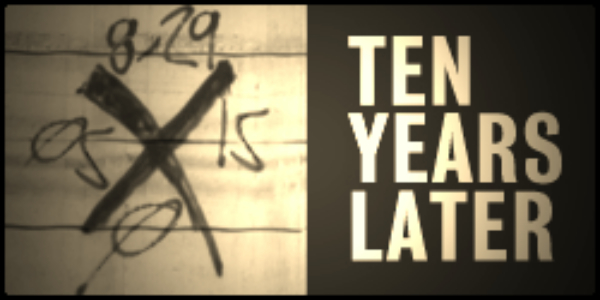 I am THANKFUL for the city that birth me, raised me, and made me who I am, the place I call home;
The one they turned their back on, tried to forget and let wash away with the storm, but 10 years later, we still standing strong! ~ BrotherWord
Everyone remembers what happened in New Orleans and the Gulf Coast area 10 years ago when Hurricane Katrina made landfall and as tragic as it was, as a proud New Orleanian, I am very THANKFUL to say we are still standing.  So many people counted us out and gave up on us, but we never quit on ourselves or our city.
It is a different city with many transplants that came from far and wide to help when we needed it most, but one thing that was never lost was the soul and essence that makes New Orleans what it is and attracts people from all around the world.  It is something that is hard to describe and even harder to pinpoint, yet undeniable and unforgettable.  New Orleans is a city that is rich in history, culture, cuisine, and most importantly, amazing people that will make a stranger feel like they are part of the family.  You can live in any city, but New Orleans is the only city that lives in you!
As we approach the anniversary of one of the most horrific events in American history, take a moment to remember what we endured and also how the country responded.  What happened is a tragedy, but if we do not learn any lessons, make provisions to never be unprepared, or allow this to happen again, that would be the real tragedy.  Katrina is etched in stone and the annuls of history, but it is one history lesson that does not need to be repeated.
10 years later we stand rebuilt, rejuvenated, and rejoicing.  The waters cleansed the city, but it did not destroy the soul.  So as we look back on what happened and continue to build for tomorrow, know that New Orleans has and will continue to live on… live on in the hearts of many who have been transplanted throughout the country, lives on in the dedication of those who returned and continue the rebuilding efforts, and through the blessing of all who came to our beloved city to lend a hand and show they cared and had not forgotten the Crescent City.
Les Bon Temps Rouler – Let the Good Times Roll – and roll on they shall as we continue to blow our trumpets, second line through the streets, make the finest beignets, and party like only New Orleans can!  What did not kill us has made us stronger and we do not plan on quitting now!  On today and every year as the anniversary of Katrina approaches, I am eternally THANKFUL I still have a home to go home to and my beloved city is still standing.