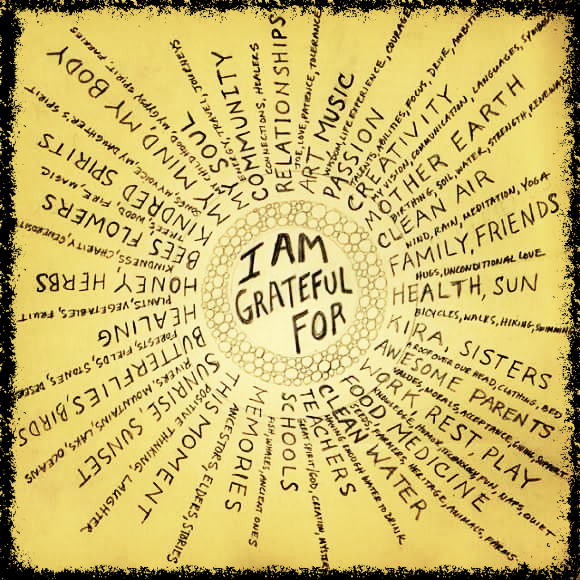 Colossians 3:15-17 – And let the peace of Christ rule in your hearts, to which indeed you were called in one body. And be thankful. Let the word of Christ dwell in you richly, teaching and admonishing one another in all wisdom, singing psalms and hymns and spiritual songs, with thankfulness in your hearts to God. And whatever you do, in word or deed, do everything in the name of the Lord Jesus, giving thanks to God the Father through him.
On a day full of things to be THANKFUL for, I am truly THANKFUL for life's teaching moments and learning what is truly important.  I know and have seen, and honestly have been one of those people who thought happiness came through the pursuit of power, possessions, and people and did not realize that real happiness is only found within.  I am so THANKFUL on this Thanksgiving for an inner peace.  
Obtaining the "finer things" in life is fine and dandy, but they are fleeing and oftentimes not fulfilling.  But when you start living on purpose, discovering what life is all about, learning self, and living a life where it is more about the lives you touch and less about the things you gather, this is when you begin to discover happiness.  Please do not misconstrue what I am saying.  It is great to achieve success, be able to afford what you want, and live a life of perceived comfort.  But how many of us know that when you find inner peace, when no matter how the wind blows, you remain steady, that at life's worst moments, you are still able to hold your head high and smile, is the best treasure one could ever discover.  I am THANKFUL to know that what is within me is greater than anything that the world may throw at me!
On this Thanksgiving as you are reflecting on all the things to be THANKFUL for, absolutely give thanks for the home you have, the financial freedom, the perks and pleasures of life, but whatever you do, do not forget the vital aspects, those immeasurable, invaluable moments that shape all that you are and all that really matters.  Love ones who support no matter what; family, whether by blood or relation, who have been in the trenches from day one through it all; discovery of self and purpose; and appreciation of the little things that are constant reminders of the many miracles and blessings that happen every day.  I am THANKFUL that I did not give up on life and life did not give up on me and in the course of discovering my inner happiness, I also found the beauty of life.  I am so THANKFUL that when hope seemed like a foolish man's desperation, God still saw fit to shine on me even in the darkest hour.  
Not just today, but everyday, find at least one thing to be THANKFUL for.  Stop for just a moment, look around you, think about where you have come from, where you presently are, and where you are going, and remind yourself that you have much to be THANKFUL for and it all begins within.
"Listen to the inner light it will guide you. Listen to the inner peace; it will feed you. Listen to the inner love; it will transform you…" ~ Sri Chinmoy