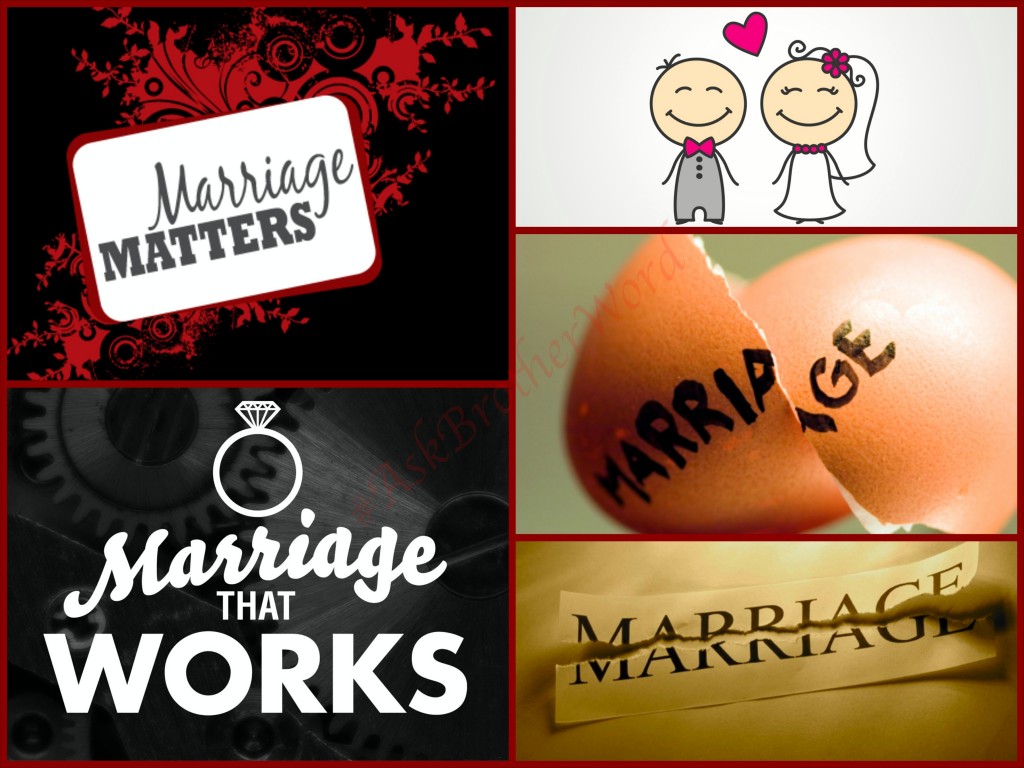 Hi BrotherWord,
I'm in a peculiar situation.  Every woman, including me, dreams about meeting her Prince Charming, being swept off her feet, having a dream wedding, and living happily ever after.  That fairytale sounds nice, but the reality is much different.  No matter what I do or where I look, I have yet to meet Prince Charming and I continue to see my friends' fairytales turn into horror stories.  Beginning to wonder if marriage is really for me or am doomed to live a life of solitude.
Sincerely,
Marriage Material?
Hi Marriage Material,
Thank you very much for reaching out to BrotherWord.  I would like to begin by saying that your situation is more common than what you may have thought.  Many people, both male and female, question whether or not they are still destined for marriage, whether or not marriage is worth it, or if they are even marriage material.
MARRIAGE IS NOT BROKEN!  The sanctity of marriage and what it was originally designed for has not been loss nor has it diminished.  The union of two people and what that union symbolizes and has been ordained to be has not lost its luster or become obsolete.  What has happened is that those getting married have (a.) failed to accept the responsibility of marriage; (b.) got married for all the wrong reasons; or (c.) were not mentally or spiritually ready to be married.  A marriage is so much more than a ceremony and sadly, many fail to prepare for life after the ceremony.
But Marriage Material, please do not let this discourage you or question whether you are a potential mate for the right man.  Instead of looking at your friend's marriage and critiquing them or searching for the right man, take the time to prepare yourself to be the best wife you can be.  Truth be told, you shouldn't be looking for a husband – whoso findeth a wife findeth a good thing (Proverbs 18:22 KJV).  Your job is to make sure you are ready and available (mentally, physically, and spiritually) when your Prince Charming discovers you.  There are many ladies who will attest that when Prince Charming did arrive, they weren't ready and lost out on the man they hoped and prayed for because they were not in a "proper place" and could not fully invest or commit to the relationship.  Please do not let opportunity pass you by – do your best to present yourself to God as one approved, a workman who does not need to be ashamed and who correctly handles the word of truth (2 Timothy 2:15 NIV).
In other words, your daily walk should be about self-improvement and making sure that you have rid yourself of any baggage, issues, or hang-ups, that you have released past hurts, you have established your own identity, and you are content and happy in being single, knowing that is only temporary, and approved and prepared for the blessing that is in store.  Also, stop putting time constraints on something you have no control over.  When the time is right and has been ordained, it shall come to pass.  In the meantime, your only duty is to be ready to present yourself as whole and complete as possible when whomever he is, finds you.
You are marriage material and as long as you believe in your worth, it cannot and will not be questioned or doubted.  Remember marriage is the union of two individuals who understand the purpose of marriage, respect the vows they have taken, are willing to accept the responsibility that comes with marriage, and thrive day-to-day on uplifting and supporting their spouse and seeing their marriage grow and prosper.  Marriage is about sacrifice, compromise, communication, trust, and fortitude… just to begin with.  As you wait and prepare, work on these things and build yourself from the inside out so that when he sees you, he sees a capable, intelligent, and virtuous woman – who is he who can find her? She is far more precious than jewels and her value is far above rubies or pearls (Proverbs 31:10 AMP).
Marriage is work and like anything worth having, what you put into it, is what you will get out of it.  Marriage Material, if you desire to be married, believe your cries have been heard and your prayers will be answered, but that prayer can only be fulfilled when you are ready to receive it.  Marriage is too important to be squandered and too powerful to be misused, but when aligned, its beauty is something to behold and the fruits of its labor will impact generations over and over.  You are most definitely marriage material!