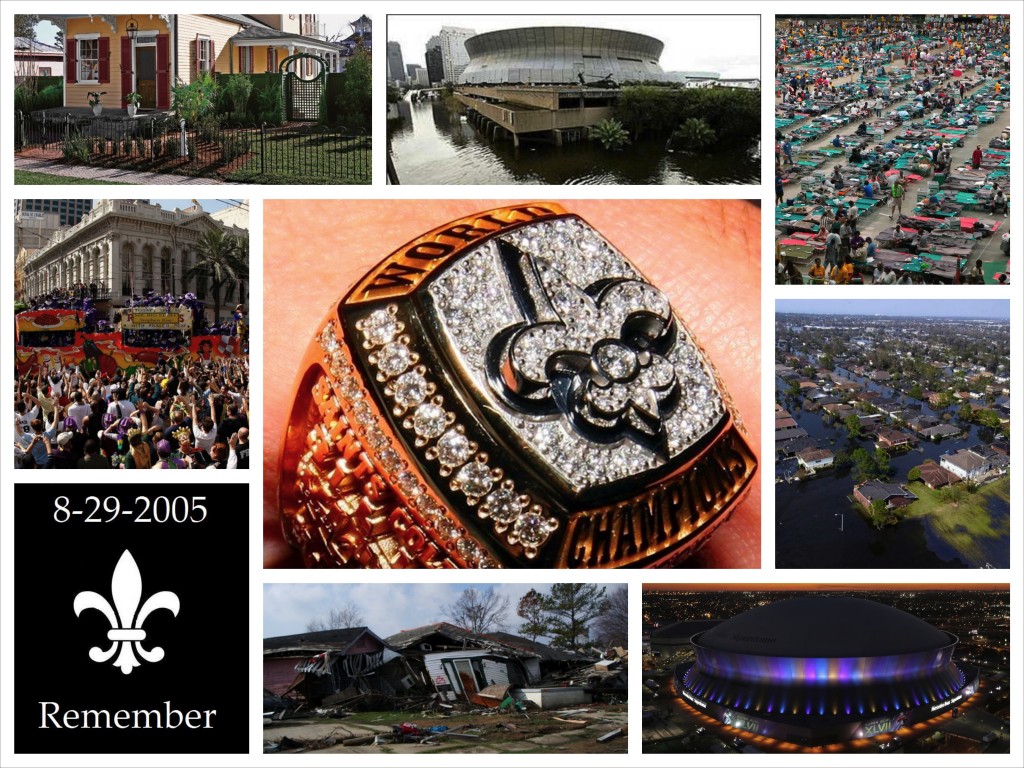 The City They Tried to Forget…
There are simply some things in life you have no control over and despite every effort, cannot control.  8 years ago to the day, the city I love and cherish, my birthplace and stomping ground, was devastated and almost wiped from existence.  Touching down during the early morning hours, the storm flooded 80% of the city, destroying the levee system, and turned a vibrant city into wasteland.  The aftermath that ensued left many homeless, helpless, and hopeless.  What happened next was worse.
Stranded with nowhere to go, citizens were left to fend for themselves or die.  Aid was nonexistent and there were no signs of help on the way.  Faced with impossible odds, people transitioned into survival mode and did what was necessary to maintain.  The following days resembled a reenactment of a Vietnam War scene or an infomercial adopting a third world child.  In a matter of days, New Orleanians went from U.S. citizens to refugees in their own country.  Blasphemy!
How little did anyone know that the torrential downpour was only cleansing the soil for a rebirth!  So many gave up on the Crescent City and wished it wither away and be forgotten, but how little did they know.  Say what you like, but if you've ever spoken to anyone from New Orleans for any length of time, you quickly realized it's a city made of survivors, overcomers, and adapters.  New Orleans is a city with an ornate blend of soul, passion, flavor, revelry, and pride.  We not only eat gumbo, we are gumbo!
The storm dispersed the residents and separated families and friends, but what was unexpected was the influence transplanted residents would have on their new locales.  Introducing others to the sounds, tastes, and culture of New Orleans helped spread the city's appeal and mystique.  Furthermore, it gave New Orleanians an opportunity to venture out of the city walls, explore the outside world, and see what more life had to offer.
After much delay, in March of 2006, the city reopened, the residents trickled back in, and the city's heartbeat slowly returned.  Buildings were resurrected, homes rebuilt, old and new stores and restaurants appeared, and familiar faces were seen throughout.  The sounds of jazz filled the airs and smell of fine cuisine filled the nose; finally, it began feeling like home again.  Then lo and behold, on September 25, 2006, the Superdome, which during catastrophe sheltered 1000s and served as a seemingly inevitable resting place for many, opened anew and brought home the beloved Saints, the biggest indication the city had returned!
Since then New Orleans has continued to grow and revamp and many have returned to the only place that is truly home.  Although some chose to stay where they relocated for various reasons, the city welcomed new residents who were drawn the city that so many tried to forget.  Along with returning patrons and the influx of fresh faces, New New Orleans was born.  Warped into the realm of new possibilities, new looks, and new ideals, what many thought was a curse, turned out to be a blessing.
The subsequent years saw the city grow, regain popularity, host the festivities it has always been known for, Mardi Gras, Jazz Fest, conventions, etc., and open its doors to anyone who wanted to see how far the city had come since the destruction of 2005.  The city became inspired again, an inspiration that fueled and ignited the hometown Saints who brought home the city's first world championship on February 7, 2010.
On this Thankful Thursday, I am most THANKFUL for the spirit and will to survive and overcome, to not give up or forget, and to remember where you've come from and the ability to rebuild the rubble into monuments.  I'm thankful that when some lost hope, others found faith; when some turned their back, more step up, opened their doors, and lent a hand.  Where some saw despair and destruction, others saw a blank canvas to paint a brighter picture.  Let this be a lesson to all.  No matter how bleak it may seem, if you believe, it can be done.  Time is precious commodity that can change even the most dire situations, nonbelievers, and hardened hearts.  Next time someone tells you that you can't, simply reply WHO DAT!
I'm from that city where they make gumbo at, a city Katrina tried to wipe off the map. Here me now, let it be told, if you cut me I bleed black and gold.  I walk by the beat of a 2nd line band and a fleur de lis I tote; it's Mardi Gras everyday in my world, so I drive a float.  Beignets and poboys are what I grew up on, the Crescent City I call home.  If you come to visit, stop in the quarter, watch the artists paint, yell Who Dat! as we cheer on our Saints.  A city rich in tradition and delicacies, the birthplace of legends, the epicenter of the greatest parties.  From across the river to the east, uptown to back-a-town, New Orleans is a city of survivors that cannot be kept down!  Laissez les bon temp rouler is the creed we live by and how we are built, so no matter the circumstances, we have a good time and roll with it.  © ~ BrotherWord