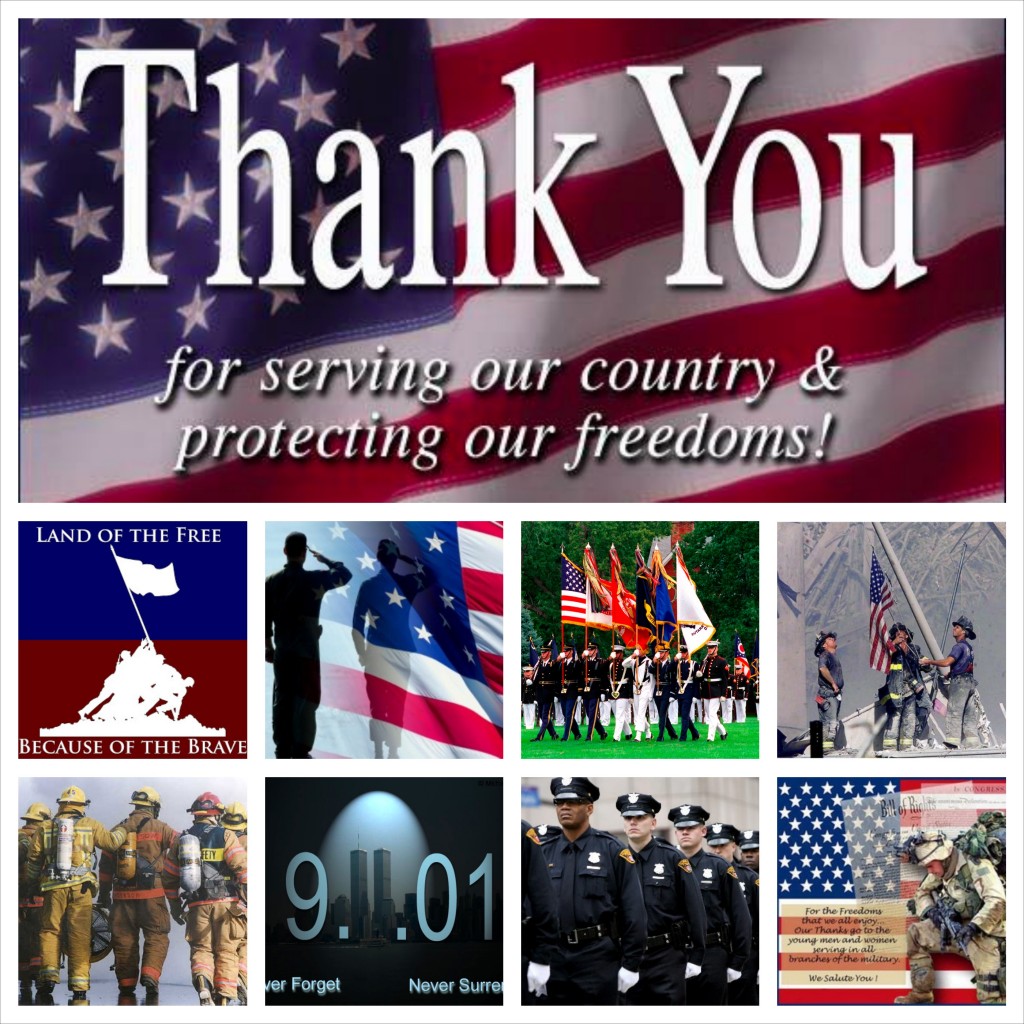 On this Thankful Thursday, I'm especially THANKFUL for the men and women who proudly serve us all without hesitation.  It takes a special person to willingly face the ills of the world and voluntarily put themselves in harm's way in order to protect and secure others' freedom.
With the passing of 9/11 and the memories of destruction and despair still fresh, it is the images of all those that pushed caution aside and rushed into danger making every effort to save and help those that were trapped.  We see so often how so many neglect their fellow-man and turn a blind eye when help is needed, but when you remember the aftermath of that day, you can't help but be proud of the true essence of mankind and America.  The Star-Spangled Banner's opening epitomizes that essence – "O say can you see by the dawn's early light, What so proudly we hailed at the twilight's last gleaming, Whose broad stripes and bright stars through the perilous fight, O'er the ramparts we watched, were so gallantly streaming?  And the rockets' red glare, the bombs bursting in air, Gave proof through the night that our flag was still there; O say does that star-spangled banner yet wave, O'er the land of the free and the home of the brave?
We all should embrace this attitude and seek ways of serving our families, neighborhoods, and communities.  What a greater world we could see if each person took a moment to help where the need arises.  Remember the brave men abroad and stateside, whether locally or are in the armed forces who bravely sacrifice their lives to insure ours.  Not only should we salute and applaud them, but we should thank them every chance we get for their tremendous service.  Thank you for all you have done and continue to do.
"I learned that courage was not the absence of fear, but the triumph over it. The brave man is not he who does not feel afraid, but he who conquers that fear." ~ Nelson Mandela
"I don't know what your destiny will be, but one thing I know: the only ones among you who will be really happy are those who have sought and found how to serve." ~ Albert Schweitzer
"Though my work may be menial, though my contribution may be small, I can perform it with dignity and offer it with unselfishness. My talents may not be great, but I can use them to bless the lives of others…. The goodness of the world in which we live is the accumulated goodness of many small and seemingly inconsequential acts." ~ Gordon B. Hinckley
"My own heroes are the dreamers, those men and women who tried to make the world a better place than when they found it, whether in small ways or great ones. Some succeeded, some failed, most had mixed results… but it is the effort that's heroic, as I see it. Win or lose, I admire those who fight the good fight." ~ George R.R. Martin