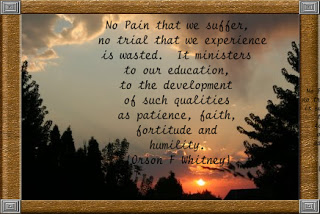 "Pain is a precursor to healing." ~ BrotherWord
Pain cannot only be physically damaging, but can also be mentally and emotionally debilitating.  Oftentimes the pain one experiences leave some sort of scar one way or another, a reminder of what happened and a lesson hopefully learned.  But some painful moments pierce deeper and are harder to overcome.  How do you handle pain that is caused by the one who is supposed to protect you, closest to you, the person you depend on for sustenance and stability, the one person who gave you life and is literally sapping that life from you?
Marianne Theresa Johnson-Reddick alleged unleashed a pain so traumatic on her children that after being estranged from them for 30 plus years, upon her death, her children submitted an obituary that depicted her as abusive, evil, and violent.  Not what one may expect to see in a time of bereavement and loss.  Patrick Reddick, one of eight children, described the decedent as a "wicked, wicked witch" when questioned about the now infamous obituary that's gone viral.  "Everything in there was completely true.  [We] wanted to shame her a little bit, but that the main purpose for putting it in there was to bring awareness to child abuse … shame child abuse overall."
The obituary that's now taken on a life of itself has circulated media outlets globally and created a storm of emotional outpouring from shock and awe to applause and empathy.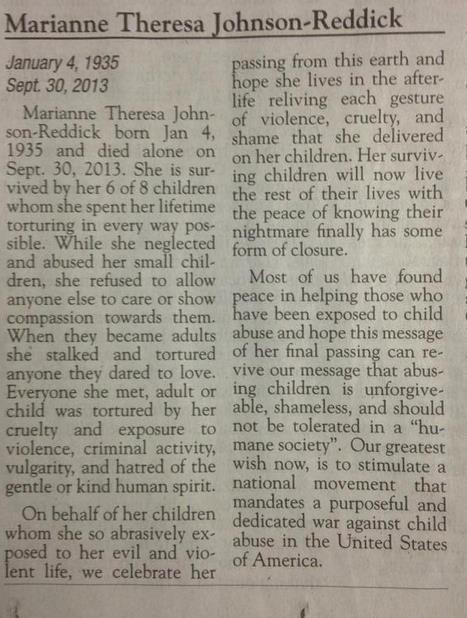 Whatever emotional waves the obituary has caused, it is evident how one person's actions can affect lives temporarily or permanently.  But what is also evident is how one can overcome the most extreme abuse and pain.  Reddick and his sister, Katherine, who is now 57, testified before the 1987 Legislature on bills to make courts give equal consideration to the best interest of a child when terminating parental rights.  Former state Sen. Sue Wagner, who authored the legislation that ultimately was signed into law, remembered meeting with them at the time and stated that it was one of the reasons Nevada became one of few states to address the issue.  Their bravery prompted Nevada to become one of the first states to allow children to sever parental ties back in the 1980s.
Greater than that, it is the testimony that they now share that gives others hope – hope to carry on, strength to endure, courage to believe, and the will to persevere and escape.  Six of Johnson-Reddick's eight children found themselves in either group homes or orphanages after being removed, but their tale didn't end there.
Katherine Reddick, now a psychology consultant in a Texas school district and the author of the obituary, after speaking with her brother, chose to shed light on their tumultuous past in hopes of brightening someone else's future.  The pain they suffered is a reminder of how far they came and a demonstration of their ability to rise above.  The obituary is unorthodox to say the least, but it represents the worst and the best of LIFE and is a clear depiction that no matter where you start, the environment you grew up in, the limitations you may be afflicted with, or the people around, your destiny is yet to be determined.  As Patrick Reddick proclaimed, and many can attest to, "I am a survivor," is a mantra plenty can hang their hat on.
This story serves a dual purpose.  How you treat others is a person's true legacy and how they will be remembered.  Secondly, despite the worst of circumstances, as long as you wake to see another day, you have another opportunity to change your life.  Be conscious of how you want to be remembered and what you want to be remembered for and no matter what circumstances life deals you, never lose hope.
To the Reddick kids, thank you for sharing your story and shedding light and giving a voice to so many kids who share your plight and suffer in silence.  To Ms. Johnson-Reddick, may God have mercy on your soul.
"There is a saying in Tibetan, 'Tragedy should be utilized as a source of strength.  No matter what sort of difficulties, how painful experience is, if we lose our hope, that's our real disaster." ~ Dalai Lama XIV