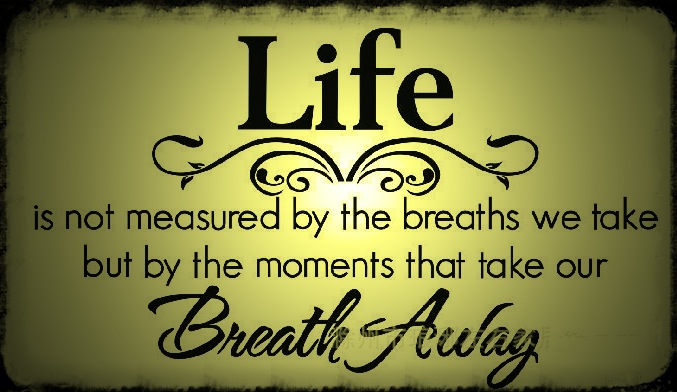 Sometimes life is completely unfair and everything you thought was possible, everything you thought you still had time for, just doesn't work out as planned.  But what you do with the time you have is what matters the most.  We've all heard that where you start and where you end isn't as important as the journey in between.  What will your dash say about you?
Just as quickly as plans change, so do people adapt.  Stop letting the changes in life halt you from living!  Each moment of life is what you make of it, so you can either decide to crumble under the trials of life or use it as stepping stones to climb higher.  Motivation comes in many forms and how you harness that energy and allow it to manifest is a testament to your character and ultimately, the legacy you leave behind.
I had the pleasure and honor of watching a man live life to the fullest, making sure every moment he had mattered.  Unbeknownst to him, he left an impression on me that will never be forgotten and how he lived his life inspired so many.  Unfortunately, his life was cut way too short and as we celebrate the life he lived, he made sure to leave a reminder of what living is about – "Life is not measured by the breaths we take, but by the moments that take our breath away."
Timothy Marsh, knowing that his time in this realm was limited, ensured that his daughters would not forget how much their father loved them nor would his presence not be felt on their wedding days.  Please take a moment to watch the videos below and as you are watching them, soak in the experience as you realize that no matter what life may throw at you, when it is all said and done, you still have the opportunity to swing back!  Tim didn't succumb or stop living, but used each breath to make an impact, an impact that will motivate others and bring joy for years to come.  Thank you for being an inspiration and motivation Tim; gone too soon, but your legacy shall live on.  Rest in Power and in Peace!
"Sorrow not if, in these days and on this earthly plane, things contrary to your wishes have been ordained and manifested by God, for days of blissful joy, of heavenly delight, are assuredly in store for you. Worlds, holy and spiritually glorious, will be unveiled to your eyes. You are destined by Him, in this world and hereafter, to partake of their benefits, to share in their joys, and to obtain a portion of their sustaining grace. To each and every one of them you will, no doubt, attain." ~ Gleanings From the Writings of Bahá'u'lláh
** Warning – You may need to have a tissue or two on hand. – **