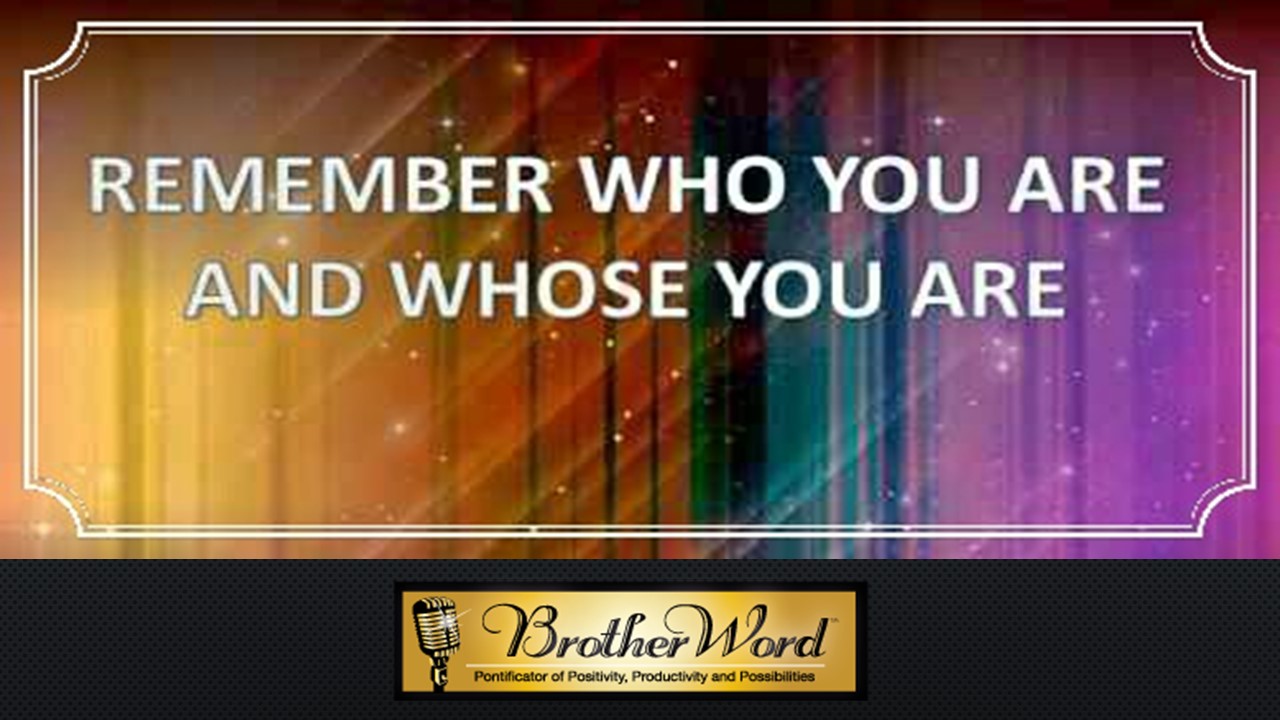 Always remember who you and whose you are no matter if the world tries to tell you otherwise or people attempt to persuade you differently. You have been wonderfully made, specifically purposed, and uniquely created. Who you are may evolve as the days pass along and life takes on new meaning, but your core essence will always remain. Whose you are, that will never change.
A good name is to be chosen rather than great riches… Proverbs 22:1; A good name is better than precious ointment… Ecclesiastes 7:1; … and his name shall be called Wonderful Counselor, Mighty God, Everlasting Father, Prince of Peace. Isaiah 9:6
"What's in a name? That which we call a rose by any other name would smell as sweet." ~ William Shakespeare None of us chose our parents, but one way or another, no matter how you slice it, they chose us. When they chose us, they also gave us a name – who we are. Our name identified us to others and to ourselves. Our name became a marker of who we are and made us accountable to everyone who preceded us and responsible to all that followed. We have our given name and our surname, the one we inherited as part of the family. As we carry our name, we also carry the legacy of our families and try to preserve what is best and build for the next generation. Who we are is the byproduct of the past, present, and future and despite what hell the world may throw in your direction, who you are will always be just as sweet.
But whose we are, that is a completely different notion. We were chosen at birth by Christ and as a child of His, it is cemented whose we are.
You have not chosen Me, but I have chosen you and I have appointed and placed and purposefully planted you, so that you would go and bear fruit and keep on bearing, and that your fruit will remain and be lasting, so that whatever you ask of the Father in My name [as My representative] He may give to you. John 15:16 (AMP)
Whose we are is a direct correlation of our relationship with Christ and in order to have a relationship, you have to be in relation to the One who first chose you. Being in relation helps to clearly define matters as well, because when you truly know whose you are, the perils of life are not that daunting. When you know whose you are and stand firmly in that knowledge, you pray instead of panic, rejoice instead of regret, celebrate instead of criticize, worship instead of worry, knowing that all things are working together for your good and if it happened, God allowed it, and you will be the better because of it! Because we know whose we are, we have a level of trust and belief that surpasses all understanding and even in the midst of chaos and mayhem, we can still look to the hills and smile, knowing He that first chose us, is already fighting our battles.
Remember who you are can be found in your given and inherited name and when combined with whose you are, you become an unstoppable force. Just as God changed Abram's name to Abraham, "father of many," and changed Sarai's name to Sarah, "mother of nations," He too has designed a destiny for you too.
Remember whose child you are. You're a chosen vessel, created for good works. You're holy and acceptable to the Lord. You have not chosen Christ, but He has chosen you with everlasting love. Remember whose you are. You're the child of the Most High God. A citizen of the kingdom of God, an ambassador for Christ with diplomatic immunity. Walk in the abundance of God's grace, power, and privilege through Christ Jesus. ~ Buky Ojelab