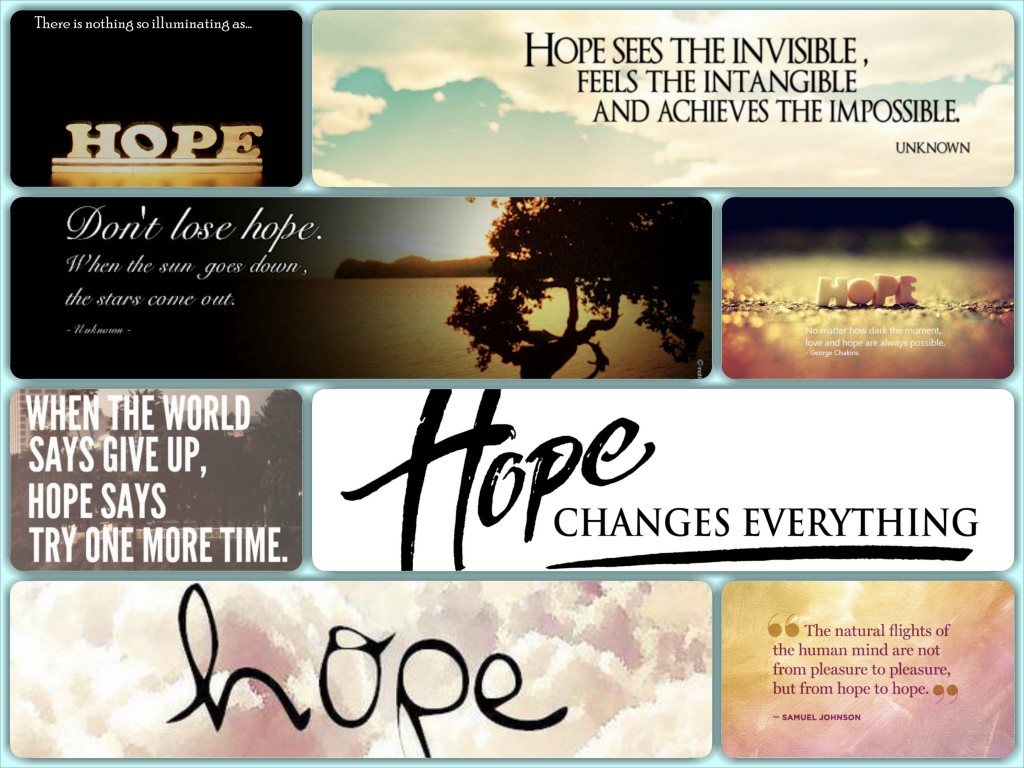 Hope is the fabric dreams are woven from; the zeal of endless possibilities; and the ship to carry you troubled waters.
~ BrotherWord
What do you do when you start losing hope?  It's a question so many face and even fewer have the answer to.  Worse, when hope is lost, nothing else seems to matter or make sense.
Life is a fickle beast that can tear the strongest of souls apart.  Life will also stretch the fiber of your very being.  It will bring you to your knees if you allow it to or cause you to rise from the ashes if you accept that challenge.  At the core of the spectrum is… HOPE!  Emily Dickinson said, ""Hope is the thing with feathers that perches in the soul and sings the tune without the words and never stops at all." In the movie I Am Number Four, the character Pittacus Lore states, "When you have lost hope, you have lost everything. And when you think all is lost, when all is dire and bleak, there is always hope."
Hope never fails, never quits, and never ceases to exist.  It surrounds us daily and breathes life into despair, and removes emptiness.  Without hope, we are on the verge of catastrophe; with hope we are conquerors.  Hope does not solve every ailment, but gives the courage to face them, the faith to know that this too shall pass, and the belief that when all looks lost there will always be a way to turn things around.
On August 19, 2013, Lee Thompson Young, a well-established actor, son, friend, colleague, outwardly portraying a phenomenal life, seemingly lost hope at the very young age of 29.  It will never be known what preceded this tragic event, but it can be speculated that whatever was happening, Mr. Young didn't see any alternative and believed it wouldn't get better.  What do you do when you start losing hope?
When you no longer can hope and all seems lost, stop, become still.  Don't fight what you're feeling, absorb what is going on, and allow yourself a moment to fully embrace it all… but only for a moment.  Realize despite how desolate things seem, it is only temporary, momentary.  It is not the end all or be all of life; simply a hurdle that can and shall be overcome.  While sitting still begin to recall all the other times you felt helpless and hopeless and look how far you've come, all you've achieved, and remember again, just when you thought there was no way things would turn around and all was lost, hope stepped in and provided what you needed to change your mind and the situation.  Once you've stood still, absorbed the punch, and reflected, it's time to move.  Figuratively and literally begin to move from that dark place and let hope shine through.  Hope speaks loud and clear, resurrects and motivates, and gives the courage and strength to persevere.
Hope calms, covers, and cures… if you allow it.  Never lose hope, never stop hoping, never stop believing in hope.  Hope will set you free and will see you through; trust that hope is everlasting.
We must accept finite disappointment, but never lose infinite hope. ~ Martin Luther King, Jr.