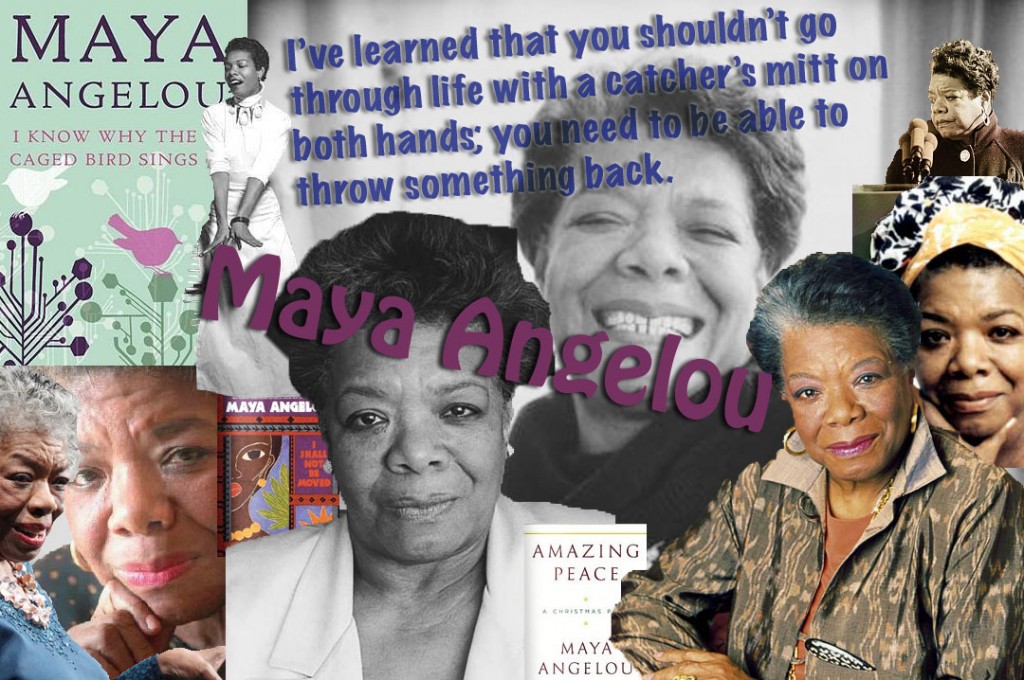 "I've learned that people will forget what you said, people will forget what you did, but people will never forget how you made them feel." ~ Maya Angelou
Today I am THANKFUL and forever grateful for the life and legacy of Maya Angelou.   A prognosticator of thought, activist of change, and voice of the unheard and forgotten, Maya Angelou's legacy will not never be forgotten or matched.  Despite a troubling and debilitating childhood, she overcame and found a way to not only channel the hardship, but to also help others traverse troubled waters.  Why Does the Caged Bird Sing?  Because it knows it is still free even if confined.  No one can stifle your mind, your imagination, your creativity, your will, your desire or your dreams!  The caged bird still sings because when it closes its eyes, it remembers soaring in the clouds and knows that one day the memory will once again become reality.
Angelou is now soaring in the clouds as she transitioned on May 28, 2014.  The blueprint behind she has left behind has imprinted an indelible mark that will not only bridge the gap between races and classes, but will shed light on how to strive in spite of.  "I've learned that people will forget what you said, people will forget what you did, but people will never forget how you made them feel."  Angelou reached people at their core and touched their heart and as the quote reads, that will never be forgotten.  Every time she spoke, it was with a purpose and a meaning and her words were not wasted.  They were intentional and meant to provoke thought, to incite feeling, and to permeate in the soul.  "Words mean more than what is set down on paper. It takes the human voice to infuse them with deeper meaning."
I am so THANKFUL that she was bold and brave enough to pursue her dreams, to explore beyond her immediate surroundings, and to believe that whatever she set her mind to was possible. It is an inspiration that regardless of the horrific tragedies she experienced, she found a way to turn those tragedies into gifts. How many can say that? How many can say that they have inspired generations of women or ALL races, nationalities, and societal backgrounds? How many can say that the heads of states, presidents, kings and queens, and dignitaries have sought them out to impart knowledge, bring a new perspective, and spread joy to any situation? How many can say that every goal they set out to accomplish, they did!
What I am most THANKFUL for on this day is the opportunity to admire and appreciate the wonder of Maya Angelou. She accepted he God-given calling, embraced it, and used it to impact lives like no one else could. As Angelou proclaimed and declared, "You are the sum total of everything you've ever seen, heard, eaten, smelled, been told, forgot – it's all there. Everything influences each of us, and because of that I try to make sure that my experiences are positive."
Maya Angelou, THANK you for being a voice for the meek, a light for the hopeless, an inspiration for those in fear, and an example for the lost. We salute and celebrate the life you gave to us all. Rest in peace and in power. Job well done Phenomenal Woman!
20 Things You May Not Have Known About Maya Angelou
1) Maya Angelou's actual name was Marguerite Ann Johnson and her brother, Bailey Jr., actually nicknamed her "Maya."
2) The very regal Ms. Angelou was actually a descendant from the Mende people of Sierra Leone of West Africa.
3) After being sexually abused and raped by her mother's boyfriend, Freeman, the shock made Maya mute and she and Bailey Jr. were sent to live with her grandmother. Angelou told Bailey what had taken place and he told the family. Freeman was arrested but served only one day in jail for what he did to Angelou. Four days after Freeman's release, he was found dead — apparently murdered  but it was never proven. There are rumors that Angelou's uncles sought revenge.
4) The literary icon gives her high school teacher Bertha Flowers credit for helping her to speak again after five years  of silence and for igniting her interest in literature. Angelou once stated that the period of silence actually allowed her to absorb her surroundings more intensely.
5) Angelou was just a teen when she dropped out of  high school.  She wound up securing a job as San Francisco's first African-American female cable car conductor.
6) After giving high school another try, Angelou got pregnant and graduated a few weeks before giving birth to her only child, Guy.
7) Despite all of the racial taboos of the time, Angelou dared to marry Greek sailor Enistasious "Tosh" Angelos in 1951, but after four years, the union faded into black.
8) When Angelou began her nightclub career as a calypso singer and dancer around San Francisco, she dropped her birth name and took on the name Maya Angelou.  She even met and teamed up with dance legend Alvin Ailey to form the modern dance performing duo of "Al and Rita."  The pair never hit it big, so they decided to go their separate ways.
9) In 1957, Angelou actually recorded an album, "Miss Calypso." Two years later, she performed in an off-Broadway review that inspired the film "Calypso Heat Wave," where she sang and performed her own compositions.
10) In 1959, Angelou met novelist James O. Killens, the spiritual Father of the Black Arts Movement of the 1960s, who inspired a subsequent generation of African Americans through writings charged with strong social and political messages. Killens, who was the founding chairman of the Harlem Writers Guild,  actually prodded Angelou to pursue writing and join the guild, where she hobnobbed with such luminaries as Paule Marshall, John Henrik Clarke, and Rosa Guy.
11) After hearing civil rights icon Dr. Martin Luther King, Jr. speak at a civil rights gathering, she and Killens organized Cabaret for Freedom to benefit the Southern Christian Leadership Conference (SCLC).  The political move earned Angelou the title of  SCLC's northern coordinator.
12) Angelou made the decision to relocate to Cairo, Egypt, in 1961, where she took on a job as an associate editor for a weekly English language newspaper.
13) In 1962, Angelou moved to Accra, Ghana, where she wound up living there five years while Guy, a college student, recuperated from a very serious auto accident.  While in Accra, Angelou worked as an administrator at the University of Ghana and freelanced for various publications there.
14) The year 1965 brought about turbulent changes as far as civil rights was concerned in the United States and Angelou was front and center.  She met Malcolm X (pictured) while he visited Ghana and decided to accompany him back to the States to help him build his expanding Organization of Afro-American Unity.  Malcolm was murdered not long after Angelou joined him in his civil rights efforts.
15) Dr. King called upon Angelou to spearhead a march in 1968, but as fate would have it, he was assassinated on March 4th, the day of her 40th birthday.  Angelou chose not to celebrate her birthday for years after Dr. Kings death as the memories were too painful for her. Instead, on her birthday, Angelou would send flowers every year to King's widow, Coretta Scott, and recite a birthday prayer for the country.
16) Angelou never went to college, but she preferred that folks outside her intimate circle of friends and family refer to her as "Dr."
17) Angelou's writing ritual involved having a yellow legal pad while lying in bed with a bottle of sherry, a thesaurus, the Bible, and playing solitaire when she ran out of steam.
18) Since the 1980s, Angelou has kept extremely busy by participating in the lecture circuit.
19) Angelou's list of awards are mind-numbing: a Pulitzer Prize nomination for her book of poetry "Just Give Me A Cool Drink Of Water 'fore I Diiie,"  a nomination for a Tony Award for her role in the 1973 play "Look Away,"  and three Grammys for her spoken word albums. In addition to her many accolades by universities, colleges, literary organizations, government agencies, and special interest groups, Angelou also received the National Medal of Arts in 2000, the Lincoln Medal in 2008, and the Presidential Medal of Freedom in 2011.  Angelou also managed to secure under her belt more than 30 honorary degrees.
20) Angelou's favorite word in the English language was joy.  Whenever she signed her books, — she authored 31 of them, including poetry, children's books and a cookbook — she added the word "joy!" Angelou was in awe of all that she had accomplished in her 86 years on this earth and always spoke about the life she led in quiet exclamations.