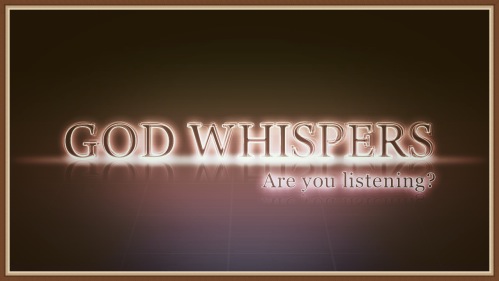 Conversation With God
Lord I ask you, why does it seem you continue to forsake me, let my enemies attack me, turn your back on me?
My son, 1st I have never turned my back on you or forsake you, and the only reason I allow your enemies' attack is because I know they can't break you.
But God, as broad as my shoulders may be and as strong as I am, I'm trying daily to be Christ-like, but I am still just flesh and blood, a mere man.
You are more than just flesh and blood, you have been created in my image and you reflect Me. You may only be a man, but what's birthed is a replication of the divine trinity.
God, I hear what you are saying and I believe in your Word, but this constant barrage of attacks has weakened my spirit… truthfully, it's absurd.
No one ever said being a Christian meant life without trials and tribulations, but I do understand how you feel. That said, they ridiculed, tortured, and crucified Jesus and all He came to do was heal.
Father that is my point, my dilemma. I know I haven't always done right, but I have dedicated my life to bettering others lives and I still find myself on the brink of surrender.
Do not become weary in well doing, because in due season you will reap if you faint not, but in the meantime lean on Me, because anything you can't handle, I got!
Most Holy One, I mean no disrespect and I am trying to weather the storm, but those that were the closest to me, the ones I relied on the most, you called home.
Yes I did and I know it caused you grief and pain. There work was completed, but I know it left you feeling lost. Know that each of your loved ones are here with Me now, they received their eternal reward because Jesus already paid the cost.
Lord, I never could have imagined following your will, living on purpose, and being a fishermen of men would take such a toll. What do I do when my cup is empty and no matter what I do, it seems to wreck my soul?
Whatever thirst you have, drink from the fountain of my well that refreshes and replenish and heals all hurts. Remember, I am the great I AM and those that drink of my living water never have to thirst.
Okay Abba Father I think I am beginning to understand. Let go and let God, do my part and put the rest in Your capable hands.
My child, it seems you are beginning to see the light. There is nothing in this world or the next that is greater than my might.
So let me see if I'm following and on the right path… Live my life according to your will, use my tools and talents to bless others, love thy neighbor, and this is how I will complete my task?
That is a good start and you are definitely moving in the right direction, but let me help you out and make the connection.
My greatest commandment is love. Love will and can conquer all and in order to save my people you have to practice love daily and believe it is true. Next, I need you to be a student of the Word so non-believers see Me in you. Pray without ceasing and trust that my will is better than you can understand. When the world seems bleak and all seems lost, trust, it is part of my master plan. No weapon formed against you shall prosper and everything they meant for evil shall be used for your good. I am the Lord of another chance, omnipotent and omnipresent, and everything will happen as I say it should.
I don't mind your questions son, happy we had this talk, but now that you have all the answers you need, it's time to build the kingdom and start walking the walk!
 My God, thank you for continuously blessing me and giving me clarification. I will bless the Lord at all times and His praises will constantly be in my mouth. From this day forward, His Word will be my map and no longer shall I doubt. I may fall short and I may stumble along the way, but with God at the steering wheel, I am certain to see a brighter day. Weeping may endure for a night, but joy cometh in the morning. Today I dry my eyes, no more mourning. Midnight lasts only a minute, 60 seconds before it no longer is there. With Christ Jesus in control that is 60 seconds I can bear. Lord I thank you for never forsaking or forgetting me and please forgive me for questioning who you are. I know now that during the worst of times, when all others have fled, when I have exhausted all options, you are not far.
My child, I can tell this conversation opened up your eyes, heart, and mind. I am so happy that you finally see that no matter what happens, I am the architect of time. It may not be your time, but I promise my timing is perfect and if you believe in me ,the answer you get will always be correct. I am the way, the truth, and the life, and all men must pass through Me. Blessed is the man who takes refuge in the Lord for He is good; taste and see. Delay is not denial and as my child I am either protecting you from harm or molding you to be great. I will give you the desires of your heart, I will fulfill all my promises, for me nothing is ever too late. Last but certainly not least, the gift I give you is eternal life, void of turmoil, absent of strife. My gift consists of grace and mercy, the gift of another chance. Not because you necessarily deserve it, but because when you earnestly ask for forgiveness, I wipe the slate clean and never give it a second glance.
Now I understand what the fruits of the spirit consist of and I know I can do all things through Christ who strengthens me. I delight myself in the Word because faith comes by hearing, hearing of the Word, and not what I can see. I now understand that God is closest to the brokenhearted and when I am weak, He is strong. I know that no matter what, my God will never leave me alone. Thank you God for it all, the ups and the downs, because now I truly see this is how I too will build my crown.
Lord, I have a new found confidence and I am ready to make disciples of nations.  Your light will shine before men so they may see your good deed and praise your name as your lamp carries me on my way.
My Child, you got it and all I have left to say is HAPPY BIRTHDAY! ©
Amen
Amen